MICHAEL BITTERMAN,
COMPOSER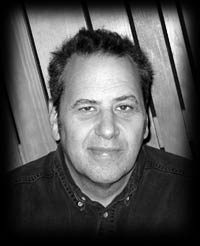 Michael Bitterman wrote the music & lyrics for the off Broadway musical, FIVE AFTER EIGHT, which played at the Cubiculo Theatre in New York in 1979 breaking all existing house records for that theater. The cast album was released by Original Cast Records in 1980 and rereleased and mastered on CD in 1993. Michael wrote many musicals and revues which have been performed in regional theaters. His songs have been performed in many New York clubs including Ted Hooks ON STAGE, The Bottom Line, RENO SWEENEY & on a Gabe Kaplan ABC TV special.

He has written radio jingles, music for films & videos, worked as a rehearsal pianist for Alan Klein (Beatles' manager), was a staff songwriter for Albert Grossman (manager for Bob Dylan, THE BAND, Janis Joplin, etc) and has been published by Chappel. He had his own show on WBAI called Mike Bitterman's Musical Murders. His musical styles range from pop to dramatic musical theater. He tends to write melodic character driven songs.

Other musicals include: We're Not Who We Think We Are (music & lyrics) Kleinert Gallery (Woodstock, NY, SUNY New Paltz); Demigod of E.78th St (music) Woodstock Playhouse; Discovering Magenta (music): The Cellar (book,music/lyrics) and his most recent FORLORN HOPE The Donner Party Musical (music & lyrics). His current CD-The Theatre's Never Dark -released by Original Cast Records features songs from all his musicals
Contact Michael Bitterman by e-mail
DENNIS DROGSETH,
BOOK WRITER/ LYRICIST
Dennis Drogseth is a widely published writer of columns, reviews and commentary on subjects as diverse as sociological trends, literature and art, to high technology trends. Rasputin: The Magic Reality Show - is both a new and an old work, redeveloped for the stage in collaboration with the White Camellia Group. In different incarnations, the musical has received serious attention ranging variously from actor, performer Ed Lyndeck, to the Theater in Rio di Janeiro, Brazil. Mr. Drogseth has written book and lyrics for The Demigod of East 78 th Street, also working with Mr. Bitterman, on request for production at the Woodstock Playhouse, in Woodstock, NY, in 1986. Other theater works written by Mr. Drogseth include "Criminal Justice" and "Morning," both revised for production in 2004. More recently, Mr. Drogseth has just completed a new work of fiction, "Killing Dimitri," based in part on his experiences in pre-Pinochet Chile.
Contact Dennis Drogseth by e-mail